READcently... Tweet Cute Blog Tour!
17 Jan 2020

Happy Friday, everyone!
I'm super excited because today I get to be part of the ~blog tour~ for a book that I loved SO much. Tweet Cute by Emma Lord has one of the most original concepts and fresh, authentic voices I've seen in YA recently and I'm thankful I got the chance to read an early copy in exchange for an honest review!
In the spirit of Tweet Cute, I'm going to start with a story…about a tweet. Once upon a time, I went to get a sandwich at (a chain that gives me mixed feelings but sometimes you have to ignore problematic founders in favor of the cheapest most convenient lunch option okay) Jimmy John's. I had my normal car playlist going, and as I waited for my freaky-fast vegetarian sub to be ready, a thought occurred to me that made me go, "heh heh this would make a good tweet." So, I tweeted the following:

I chuckled to myself, as one does, then promptly forgot about it. But by the time I got home and checked my phone again, a surprise was waiting for me…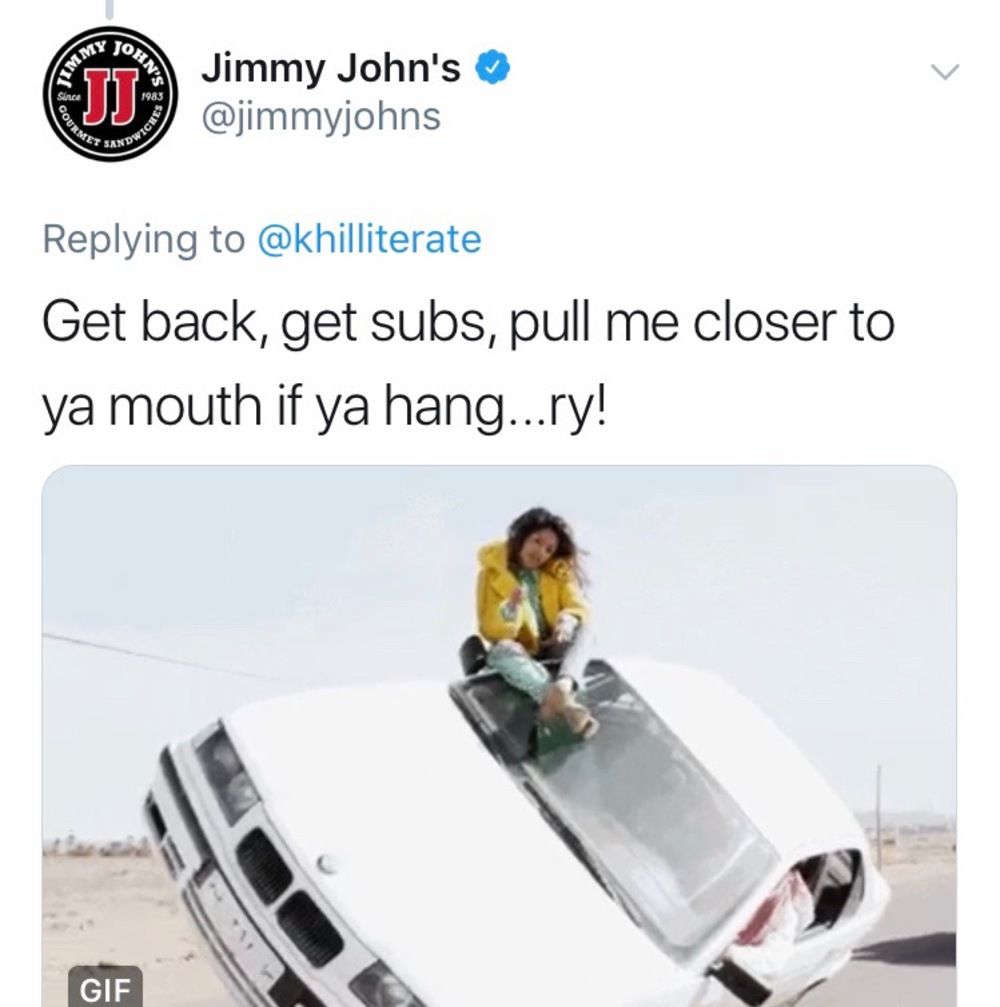 Reader, I died. I mean, so much to unpack here. The food pun. Inserted into an M.I.A. lyric. With an accompanying gif. From a corporate Twitter account. I just…what?
In today's Twitter landscape, this kind of thing is not uncommon. Brands like Wendy's and McDonald's, Popeye's and Chik-Fil-A all subtweet each other about whose beef is fresh never frozen and whose chicken sandwich is superior. MoonPies' account goes through an existential crisis on the regular. But what's easy to forget–and makes things all the weirder/funnier—is that each of these accounts is run by real humans.
Tweet Cute explores what happens when two of those humans, running competing businesses' Twitter accounts, actually know each other in real life…and start to fall in LoVeEe. So basically, if Jimmy John's weird social media person was actually my soulmate.
In Tweet Cute, our heroes are Pepper and Jack. Yes, exactly like the cheese. These are the most beautiful character names ever, for precisely this reason and how it relates to the plot. Pepper's parents started a highly successful chain called Big League Burger. Jack's own the family deli, Girl Cheesing, where the menu mainly features gourmet grilled cheese. The two have little to do with each other's lives, until one day when Big League Burger debuts its new grilled cheese menu—prominently featuring Jack's grandma's iconic recipe.
Jack impulsively tweets from Girl Cheesing's account about BLB being unoriginal. Pepper tweets a pithy response from BLB. All-out viral Twitter warfare ensues.
Meanwhile! Jack and Pepper are falling for each other on an anonymous chat app Jack created, though neither knows the other's identity, aaand growing closer in real life as they work together on the school's swim/dive teams and navigate the choppier waters of becoming Twitter sensations. Much like eating a gooey gourmet grilled cheese, things get delicious and messy.
Basically, what would have happened if Jimmy John's social media person and I were actually soulmates.
Funny, smart, and romantic, Tweet Cute is a romance that captures this very weird, viral-meme-tastic timeline we're in and enhances the good while not-preachily warning about the bad. It covers complicated family dynamics, the unique stress that comes with being an overachieving high schooler preparing for college, finding and following your passions, and falling in love in the midst of it all. It gets five adorable, cheesy stars from me! I'm obsessed with PepperJack and need everyone else to get on board. This book comes out Tuesday, so plan your library and bookstore trips and pre-orders accordingly!
Tell me, have YOU ever found yourself in an unexpected interaction and/or falling in love with the person behind a corporate Twitter account? Life is bound to imitate this particular work of art one of these days, I'm convinced of it.
Hope everyone has a wonderful weekend filled with even better reads! Thanks to Wednesday Books for the early copy of Tweet Cute and thank YOU for reading!
xo,
Kaitlyn