READcently... Reflections and 2019 Favorites!
31 Dec 2019
Happy last day of 2019! This year has been such a ride, in mostly great ways. I was so lucky to travel a bunch, to find a job I love, and to make strides in my writing. After a very rocky few years prior, I don't take for granted the fact that I feel like I'm finally leveling out and landing in places and situations where I feel comfortable and optimistic. In fact, I'm so not taking it for granted that I'm sitting here typing with my fingers partially covering my eyes, going, "don't jinx it, girl, don't jinx it."
Anyway, per usual, one of the very best parts of my year and life has been reading. At the beginning, I set a Goodreads challenge goal to read "only" 75 books this year. Please LOL with me. This is because in 2018, my goal was 100 and I surpassed it. I also read over 100 in 2017. Now, both of those years were very difficult and reading was a major escape for me, so I sort of thought, "huh, maybe this time I should try to read less and go out in the world more."
Friends, that is not how it works. At least for me, reading has become such a habit that I can't not do it—I get antsy if I don't have at least one book I'm working on at any given time. Books calm me, entertain me, keep my creativity going. They help me go to sleep at night, they get me through things I otherwise don't enjoy, like grocery shopping or sitting in traffic (shoutout to audiobooks). Imaginary lives and happy endings are a source of so much joy for me, and with how quickly I read and how much of my reading is done in tandem with other productive things, I do indeed balance it with a normally functioning work and social life in my own day-to-day.
All in all, and assuming I don't finish any more today, I read 223 books this year. At the risk of sounding (even more?) bizarro, I've been embarrassed to share this! On the one hand it feels braggy, while on the other hand it feels like revealing I am actually a cave-dwelling alien who subsists on the written word alone and any of my blog posts or social media suggesting I have an actual life are just part of a façade. To most people in my life, it will seem bonkers! Do I sleep? (Yes!) Do I go outside? (Sometimes!) Many of my reads this year have been in audiobook form—which is every bit as legit as print books, mind you, and don't let the ableists tell you otherwise, but I do usually read those while doing other things. A few reads have been shorter publications or novellas, but not so many as to sway the numbers much. And it feels worth saying, for the less bookish folk in my life, that there are plenty of people out there who read even more than I do! Librarians, book bloggers, others who read in a more dedicated and/or professional fashion than me are all over the interwebs with wildly high end-of-the-year totals. So inspired by those impressive folks, I finally decided it would be dumb to try and read less or hide my ~truth~ like a guilty pleasure for the sake of appearances, and going into 2020, I should just mother-effing own it.
I READ 223 BOOKS THIS YEAR AND I LIKED IT!
With all that unnecessarily said, I will now share my…drumroll please…19 favorite books of 2019! These are just the favorites that were actually published in 2019—plenty more backlist titles that I loved, but I had to cut it down somehow. I also put off writing this for so long because I wanted to make sure I hadn't missed anything amazing and keep reading 'til the last possible minute, but unfortunately, I've come to terms with the fact that I could not possibly have read every single book released in 2019 and there will be many that I would probably adore but have not made it to yet. Those will just have to go in future book blog posts when I get to them. Also, no descriptions below because that would get too long and I don't think you really want to read it all and also I'm tired, but if you'd like my thoughts on a case by case basis, I'm happy to provide. Anyway, HERE TAKE IT in no particular order: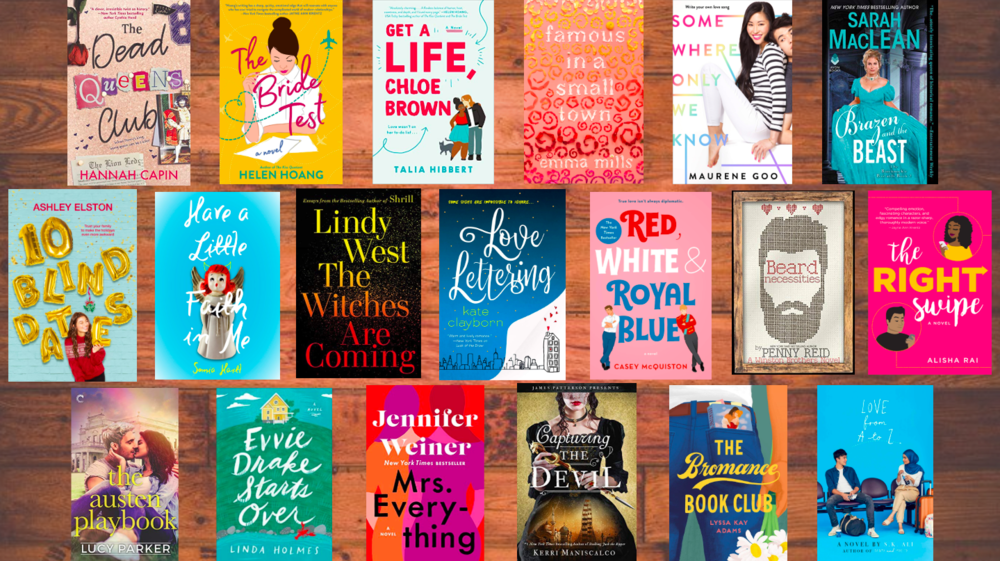 Love Lettering by Kate Clayborn
10 Blind Dates by Ashley Elston
Get a Life, Chloe Brown by Talia Hibbert
Evvie Drake Starts Over by Linda Holmes
The Bride Test* by Helen Hoang
The Austen Playbook by Lucy Parker
Have A Little Faith in Me by Sonia Hartl
Red, White, and Royal Blue by Casey McQuiston
Famous in a Small Town by Emma Mills
Somewhere Only We Know by Maurene Goo
The Dead Queens Club by Hannah Capin
The Bromance Book Club by Lyssa Kay Adams
Beard Necessities* by Penny Reid
The Witches Are Coming by Lindy West (my only non-fiction pick, lol, did I mention I like to escape the real world?)
Brazen and the Beast* by Sarah MacLean
Love From A to Z by S.K. Ali
Capturing the Devil* by Kerri Maniscalco
Mrs. Everything by Jennifer Weiner
The Right Swipe by Alisha Rai
(* to indicate that it's part of a series and I think you should read the previous books in the series first!)
Yay I committed to a list!! *wipes sweat from forehead* There were so, so many more amazing books I read this year and I am always happy to talk your ear off about them all. Just ask me. You'll probably regret it.
In 2020, I have a couple of reading goals not pertaining to a particular number. I hope to read a bit more widely in terms of genre—you may notice that this year has been extremely YA and romance-heavy. That's because I love them and they make me happy. But I do recognize there are a lot of great reads I'm missing out on with different subject matter and writing styles and I want to challenge myself to get into more of those. I also want to continue reading more diversely, with authors from different or more marginalized backgrounds than my own and settings/topics with which I'm less familiar.
What is your reading goal for this new year? One of my favorite things is seeing my friends' reading challenges on Goodreads. Meeting any goal you set for yourself, whether 2 or 200 books, is incredible. Making a habit of reading when it's never been one for you is tough and I respect the ever-loving hail out of people with intense full-time jobs and super busy lives who make the time for even a handful of books. I'm lucky to not have a ton of responsibilities at this stage and already have this terrible vision of 10-15 years in the future me, inadvertently letting my hypothetical children burn the house down because I was in the middle of a really great book and made them fend for themselves for dinner. But I digress…
Thank you, as ever, for coming on the blogging journey with me this year. I am so grateful for all of the amazing people in my life who have ever reached out and told me that they enjoy my writing or related to something I said. It means more than you could know that there's anyone out there getting something out of these ramblings I toss into the universe.
I hope 2019 has brought you happiness and 2020 brings you even more!
Xo,
Kaitlyn