READcently: Holiday Edition!
19 Dec 2019
Merry happy festive season, everyone! I am emerging from my revisions cave after finishing round 1 of major Pitch Wars revisions (!!!) and therefore it is Christmas. It may not be the 25th and I may still be going to work til Monday, but in my head, it is Christmas. And as such! We are in holiday reading mode, people!! Viewing mode, too, but this post isn't called WATCHEDcently, am I rite ladies?
Okay, so here are a few of my favorite holiday reads! There's a mix of generally wintry vs Christmas-specific and a few of the short stories represent other holidays a la Hannukah and New Years, but I would LOVE any recommendations you have for non-Christmas holiday reads. Meanwhile, these should all be perfect for curling up by the fire, watching snow fall out the window, and ignoring your extended family members when you start to remember that you only see each other once a year for a reason.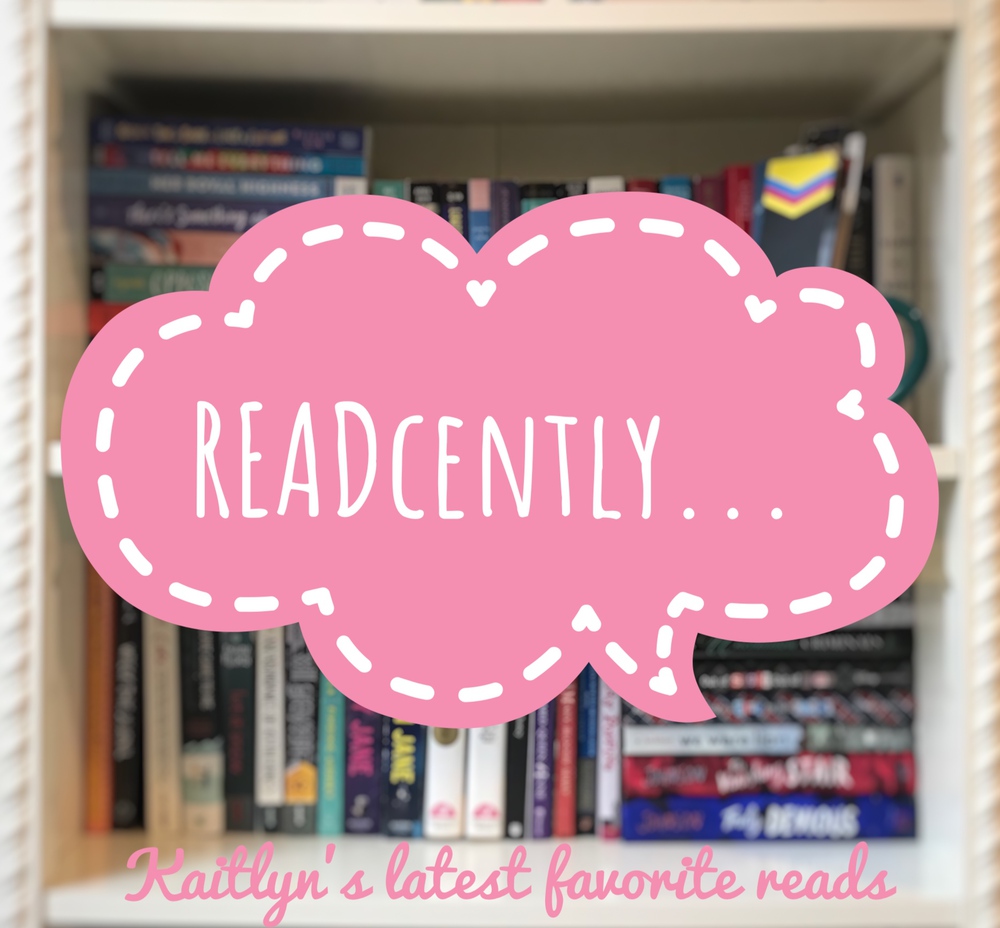 My True Love Gave to Me by various authors, edited by Stephanie Perkins — I got this one as an early Christmas gift a few years ago, and my boyfriend stuffed the pages with cute homemade coupons for things like "dinner anywhere you want," etc., and somehow I promptly lost…all of them. But even if I didn't get free food out of it, I really enjoyed this book and have reread it every year since! It's full of holiday young adult short stories by different YA authors that all have some kind of cute romantic tilt to them. YA + romance + holidays = all of Kaitlyn's favorite things. Short stories are also great if you don't have time/energy to invest in a whole book, as you can pick and choose which sound best to you and jump around.
Let It Snow by Lauren Myracle, Maureen Johnson, and John Green — this one was recently adapted into a SUPER CUTE movie on Netflix, so that's worth checking out. But it's also a really lovely read! Think teenage Love Actually but more wholesome. It especially resonated with me as a former Youth who loved trekking to Waffle House on snow days, as a large portion takes place while they're snowed in at a fictional Waffle House. So much nostalgia. So much greasy food. All the love.
10 Blind Dates by Ashley Elston — Oh my goodness, this one captures SO WELL what it's like to have a big family that all gets together under one roof for the holidays. Mine have never taken turns setting up blind dates for me in the days leading up to Christmas like this gal's family does, but that is 100% for the best. This YA novel was honestly one of my favorites I read this year—so cute, funny, romantic, and super relatable family dynamics. It was like candy, sweet and delightful start to finish.
A Christmas Gone Perfectly Wrong by Cecilia Grant — Historical romance time!! Wow, okay, side note to say that I only really read my first historical romance a couple of months ago, and I think I put it off that long because deep down I knew it was primed to become an addiction once I got started. That is exactly what has happened. I remember what it was like to read other genres… Anyway, this is a "novella" that's actually close to novel length, and as of this posting, it is FREE on Kindle. It has some of the best romance tropes—slow burn, road trip, hard unemotional grumpster falls for sweet sunshiney free spirit, fake marriage, uh oh we both have to stay in this room but there's OnLy OnE bEd…it was recommended on Twitter by an author I love, Kate Clayborn, and I'm eternally grateful! Such a swoony read and the start to a series, which I will now have to binge, it is the only option.
Miracle on 5th Avenue by Sarah Morgan — I read this entire romance series in about a month last winter because they are so fun and romantic and *heart eyes.* This is an especially good one, following a housesitter who takes a job only to find that oops the owner is actually still at home, he's just a grumpy, reclusive (and dashingly handsome) mystery author and there was a misunderstanding that led to them both being here but oops now they're snowed in together! Guess they'll have to kiss each other's faces and fall in love! Oops!!! I loved it so muuuuuch.
The Twelve Clues of Christmas by Rhys Bowen — A MyStErY!! This is the Christmassy installment in my favorite cozy mystery series, Her Royal Spyness. It follows Georgie, the 35th in line to the British throne in the 1930s, who happens to find herself in close proximity to murders OVER AND OVER AGAIN. While this would send most of us to therapy after, like, the first time it happened, it doesn't get ol' Georgie down and she always helps catch the killers. This one takes place in a quaint English village during a days-long holiday party at which, most unfortunately, people keep dying. I don't know, cozy mysteries are weird because it's like "murder! but kinda fun!" and in this case, "and festive!" You don't need to have read the rest of the series to enjoy this one and get swept up in cute, old timey, murdery adventures.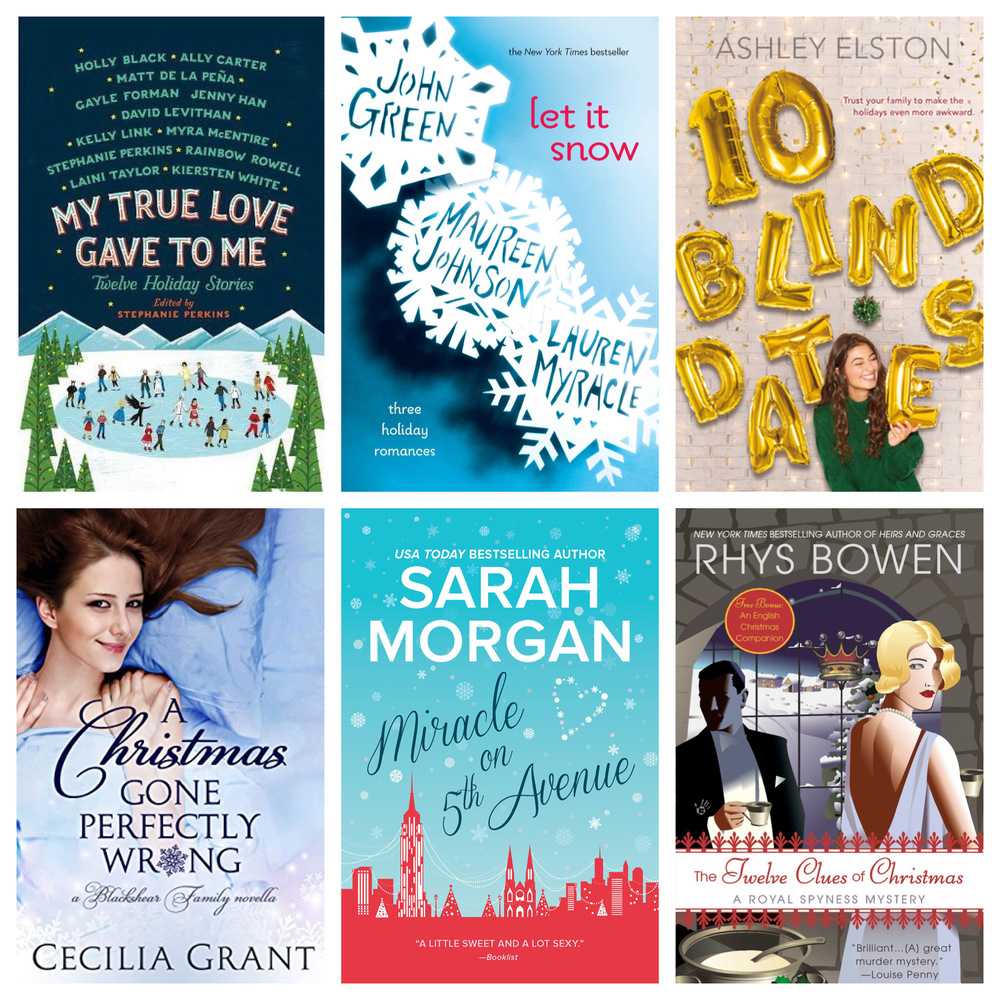 That's all I have for you this time around. Let me know if you end up reading any of these or have any holiday reading recommendations of your own! If my one-man IT department is as effective as he says he is, my blog should actually have a comments section now?? So that could be fun to test out. We have different definitions of fun, you say? Interesting.
Whether or not you're celebrating anything this time of year, I hope the rest of December treats you stupendously. Thank you for stopping by, and I'll be (hopefully) back once more before year's end with my favorite reads of 2019!
Peace luv n BOOKS y'all,
Kaitlyn