READcently... Summer Lovin'
11 Jul 2019
Hello, hello and happy weekend! Before we dig in to this week's book recs, I just want to say that I really appreciate the kindness sent my way after my last post. Immediately after putting it up, my inner bully was like, "Why did you write that, you depressing and attention-grabby lil son of a—" but then people gave such lovely and supportive feedback that I decided to have #noregretz. So thank you. <3 And for what it's worth, I've had a pretty good week!
In case you haven't had the best week and need a little pick-me-up orrrr you're doing just fine and want to keep it going, I have some good and happy books for you today! This may shock you, but all of them are romance novels. Normally I try to give a lil variety (do you tho? they wonder), but there have been SO MANY good romances coming out this summer and more still to come. For those not fond of romance, I'll give you more options next time, but I also implore you to consider why you deny yourself the simple joys of life. JKJK (mostly)…
Without further delay, here are some of my recent favorites!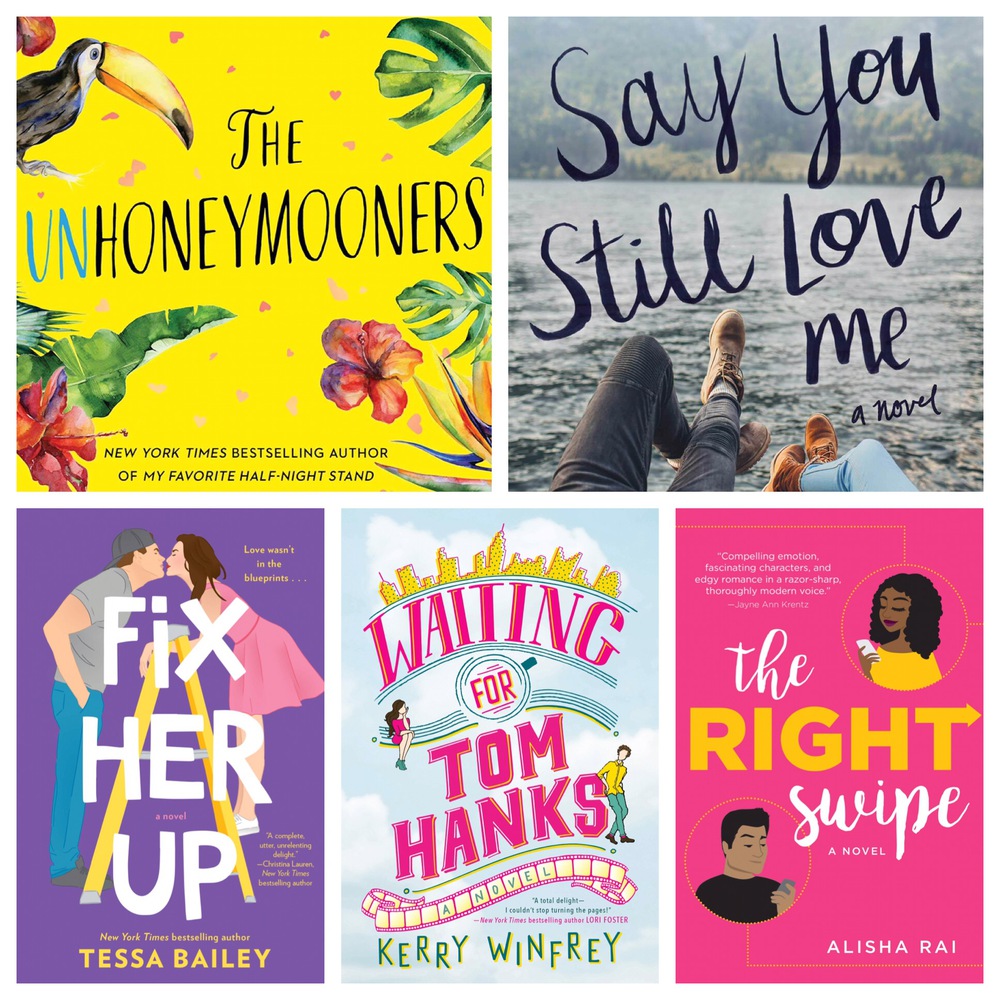 The Unhoneymooners by Christina Lauren — The newest from my fav rom-com writing queens, this book was seriously cute and funny. Sister-of-the-bride Olive and brother-of-the-groom Ethan can't stand each other after a bad first meeting. But when everyone else at the wedding gets horribly ill from the reception buffet, their siblings encourage the two to take the non-transferrable honeymoon trip they won in a sweepstakes instead of letting it go to waste. What ensues as they pretend to be newlyweds and share a romantic Hawaiian getaway can probably be predicted, but it's hilarious and sweet with so much fun banter and many heart-squeezy moments along the way. CLo never disappoints!
Waiting for Tom Hanks by Kerry Winfrey — The title obviously sucked me in from the get-go, and the story itself was even more delightful. Annie Cassidy dreams of being a screenwriter, and in her personal life, of finding her own big-screen-worthy love story. When a movie starts filming in her hometown with one of Hollywood's most handsome leading men starring, she might have her shot at both. This was a light, easy read with a well-developed cast of characters (shoutout to my fav, Gary) and quick pacing that really made it feel like watching a Sleeping in Seattle or You've Got Mail play out on the page. I recommend it especially to fans of classic rom-coms (see: Tom Hanks' IMDB page), as there are a ton of references that will make you smile.
Fix Her Up by Tessa Bailey — One of the best things about this novel, which is full of great things, is that the heroine is a birthday party clown. Incredible. But in spite of that, Georgie is desperate for her family to take her seriously and stop treating her like a child. Her brother's best friend, Travis, is a former pro baseball player forced into retirement by an injury. He is trying to deal with that disappointment while also cleaning up his risqué image so he might have a chance at a career as a commentator. To try and solve both of their problems, the two pretend to date, which definitely always works as expected and never ever ends in accidentally falling in love. Never. This book, the first in a new series, is fun, rather ~steamy~, and worth the read!
Say You Still Love Me by K.A. Tucker — Put this on your list for when it comes out August 6th! I received an early copy from NetGalley and loved it SO much. I got on a K.A. Tucker kick earlier this year and read her entire backlist, but this one is definitely my favorite. It follows Piper and Kyle across two timelines — when they met as teenagers while working as camp counselors, and when they reconnect a decade later when Kyle starts working as a security guard at Piper's family's multibillion dollar company. As a former camp counselor myself (on a staff with literally zero romance, fortunately, would have been quite awk since there were like 7 of us and it was church camp, yikes, but I digress), I loved the camp parts, plus the commentary threaded through the present day side about things like class differences and gender discrimination in the corporate world. And, of course, the very swoony second-chance romance. K.A. Tucker has made a loyal reader of me forever.
The Right Swipe by Alisha Rai — Okay, honestly, I thought the "Wish For It" feature on NetGalley was a myth, but then I randomly had a wish granted by the publisher of this book and got to read an early copy! Disney told me wishes come true and I shouldn't have doubted them. Anyway, this book also comes out August 6th. It follows Rhiannon, a dating app creator, and Samson, a former pro football player turned spokesman for a rival app. The two met when they swiped right on each other (truly, I love it) and had a one-night romantic rendezvous when neither knew who the other was. Months later, Samson wants more, but Rhiannon is unsure…accidental rhyme, but I'm keeping it, like you should keep your eye out for this book. It's another that combines a really great love story with depictions of sexism in the tech industry, sexual harassment, grief, processing trauma, and somehow does it all without feeling too heavy or overwhelming. I adored it and can't wait for the rest of the series!
Whew, that's all I have for you today! About to head out on the great big extended family vacation, which is exciting and also means I may not me ~on da blog~ for a couple weeks. But please let me know if you read any of these and if you want to gush over them together — I take no vacations from obsessing over books.
All the love in these romance novels times twelve,
Kaitlyn