READcently...come get YA some
29 Apr 2019
Hello and happy New Book Tuesday Eve! I was making the list of books to recommend today and realized that I've read a lot of super ~fresh~ new young adult (a.k.a. YA, thus my attempt at a punny title) lit recently. As in, over half these books come out tomorrow or next week! Great timing for a lil dummy who doesn't plan her posts much in advance! So just know that I'm feeling extremely cool and relevant right now. Next post, I'll likely resume normal programming as the out-of-touch weirdy shouting from the blog rooftops about books everyone else read ages ago but for now, I am a Cutting Edge Very Important Pioneering Book Blogger.
*some publisher somewhere puts my name on their reviewer blacklist*
Without further delay, here are some of my most favorite reads of late:
If I'm Being Honest by Emily Wibberley and Austin Siegemund-Broka — This is the second book by these two (highly recommend their debut, Always Never Yours) and I'm OBSESSED. It's a modern retelling of Taming of the Shrew that is both 10x more fun and less problematic, *Elle Woods voice* no disrespect to Shakespeare. It has one of those "unlikeable female protagonists" that you will actually root for so hard, the softest nerd boy love interest, tons of smart commentary on those unlikeable girls, and A+ humor throughout. Think Mean Girls meets 10 Things I Hate About You meets your new fav book. If I'm being honest, you should pick yourself up a copy right now.
Hot Dog Girl by Jennifer Dugan — While my eye was first caught by its absolutely adorable cover, I was even more into the premise of a girl who works in a small-scale Disney-like amusement park with princesses and pirates…but she gets stuck wearing a hot dog costume day in and day out. This book also has a bisexual protagonist, a love triangle, and so much sarcastic humor. You will enjoy it even if you aren't a weary former Disney cast member who still gets asked, "Oh, were you a princess?" when you actually spent your day securing lap bars and relocating strollers and sweating in your maid costume. Wait, where am I? Oh yes, Hot Dog Girl comes out tomorrow!
If You're Out There by Katie Loutzenhiser — This one's for my fellow mystery-but-don't-make-it-too-scary fans. It follows a girl whose best friend moves away and before long, ghosts her. With no explanation, she just cuts off contact, and our heroine is convinced that something fishy is up. Everyone in her life is like "girl let it go, friendships end sometimes," but she continues to investigate…and may or may not find out that she was right. Wow, this description is not great, but the book IS. It's one of the more unique concepts I've seen in a long time in YA and super well executed. Plus, a bunch of lovable side characters that keep the story from feeling too dark/heavy. ~Out there~ now for your reading pleasure!
The Lovely and the Lost by Jennifer Lynn Barnes — Do you ever read a book and within a few pages, you are just totally swept up in the setting/characters/world and it is the coziest, homiest feeling for reasons you can't even pinpoint but you don't want it to end? That was this book for me, which seems bizarre for a somewhat dark story of a girl who was found in the woods as a child then raised in a family that trains search and rescue dogs, but the heart wants what it wants. JLB's writing sucks me in every time, it seems, and this is one of my new favorites of hers. Another creative concept, a compelling mystery that I REALLY hope unfolds into further books, and cute dogs. What's not to love? This comes out next week.
Love from A to Z by S.K. Ali — Aaaand one final swoony romance because I'm nothing if not a consistent sucker for love. This book follows Adam and Zayneb, two Muslim teens who meet in an airport and then continue to meet throughout a couple of weeks and through common connections in Qatar. Weaved through their love story, the book explores heavy issues faced by each teen, from everyday racism Zayneb experiences to Adam's recent diagnosis with MS. As a non-Muslim reader, I gained some new insight into both the practices/beliefs of Islam as well as the awful discrimination its practitioners face. It sounds like a lot to fit in one book, but Ali does it beautifully. Also, the epilogue was the most perfect epilogue that ever epilogued and tied up everything in a pretty blue bow. Another title that comes out tomorrow!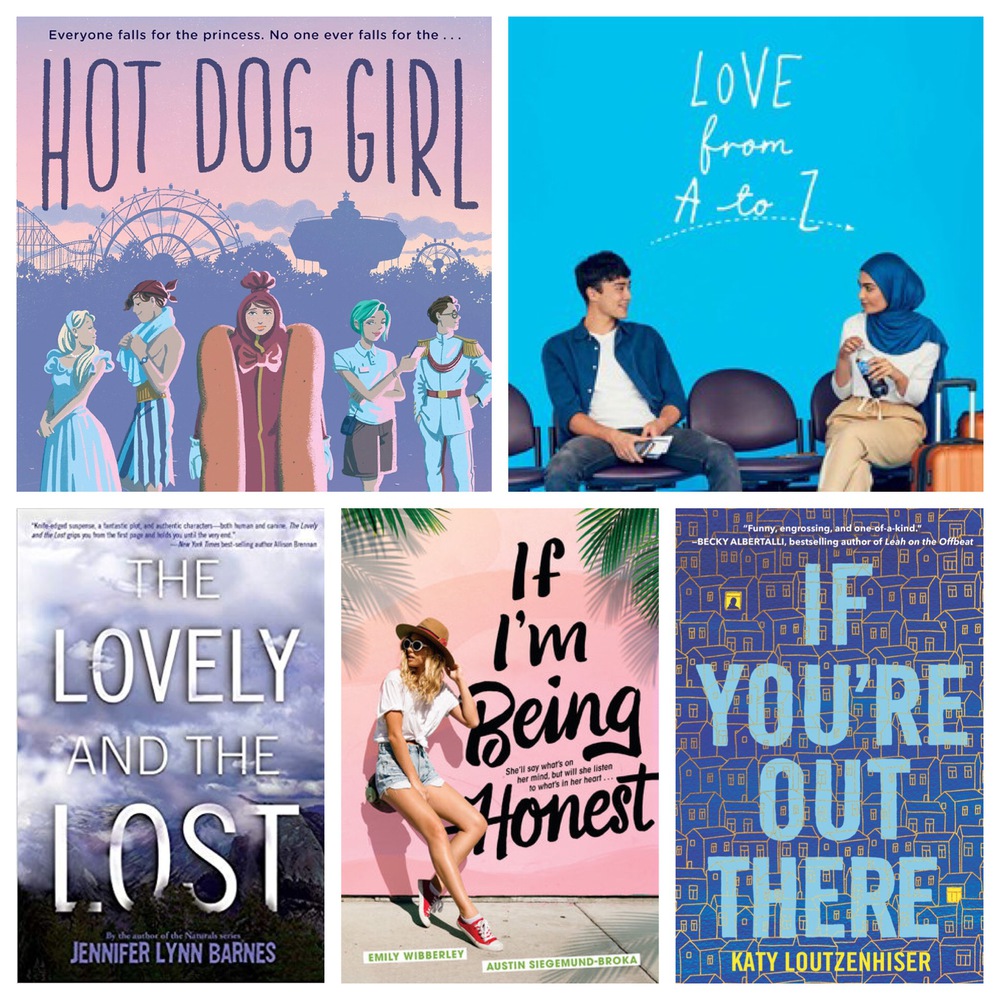 That's all I have for you today, lovely readers. If you pick any of these up, let me know what you think! My one-man IT department says I might even be getting a comment section soon, which is both cool and scary because for now, I can just assume that everyone who reads my posts loves and agrees with them implicitly. But I guess thoughtful discourse is good, or something.
Anyhoo, thanks for reading and feel free to subscribe with your email in the lil box somewhere on this page!
Until next time,
Kaitlyn