Barcelona + coming home-a
13 Jun 2019
Hola, lovely readers, and welcome to the FINAL travel recap (til I go somewhere else, that is)! I probably should have written this before crossing the ocean, as my memory is now clouded by jet lag, but thank goodness I have a travel companion who can fact-check me.
When I last updated, we were about to fly out of Belgium…to España! Specifically Barcelona. Steph and I arrived last Thursday evening and checked into our hotel, which might technically have been a hostel? But we had our own room and bathroom, even if they were nothing too fancy. And twin beds, because I continue to book only the most romantic getaways. We lazed about for a bit before deciding it was time to feed the beast (my stomach), then found a tapas place around the corner. We were the only people in the restaurant for most of the meal, the two guys running it were super nice and welcoming, and the food. was. AMAZING. I think both of us were surprised that Barcelona ended up having some of our favorite food of the whole trip. The first night, we had vegetarian paella and patatas bravas and both tasted like the most delicious things I've ever eaten, which I know was partially due to how hungry I was, but they were also just really effing good. Patatas bravas are fried potatoes covered in garlic mayo and some kind of chili sauce, and we decided night one that we should have them with every meal while in Spain. Reader, this was the right decision. We sampled many variations on patatas bravas at every place we went to for lunch or dinner and they were all outstanding. I left a piece of my heart in Barcelona and that piece is fried and covered in garlic mayo and chili sauce.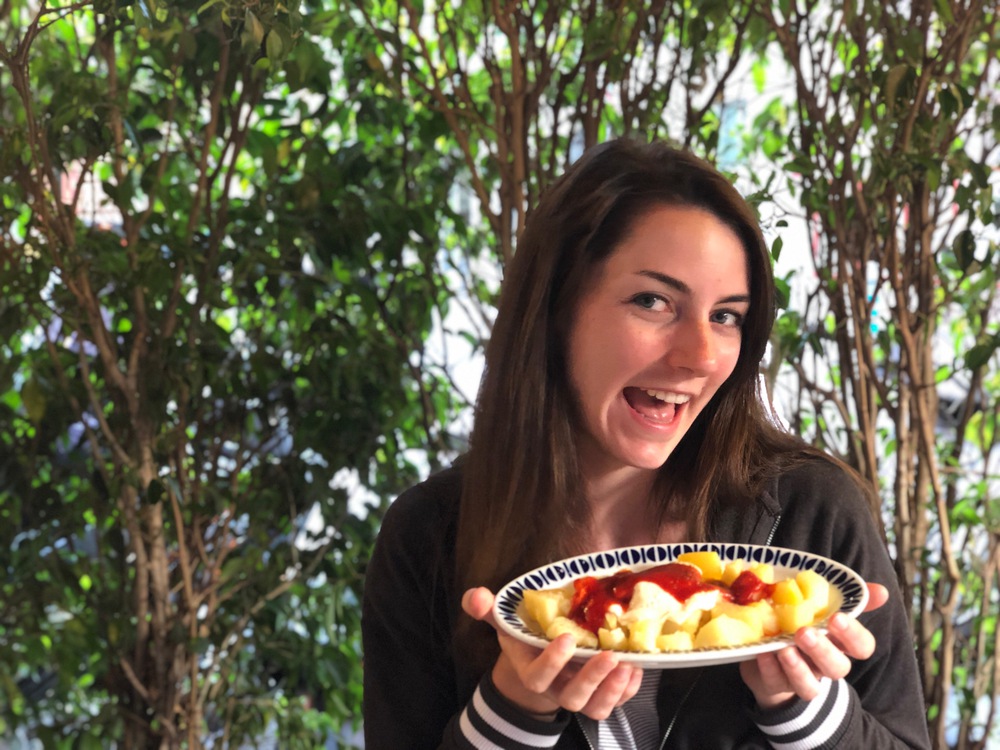 Post-feasting, we walked a little to see the cathedral Sagrada Familia at night. It was closed, so we didn't go inside yet, but w o w it was already impressive from the façade alone. On Friday, we woke up and had a lazy morning with a long tapas lunch before heading to another creation by the architect Gaudí, Casa Mila. Also known as La Pedrera, it is one of the famous houses he designed with many whimsical touches that made wealthy Barcelona residents at the time clutch their pearls. Today, when people from all over the world (myself included) picture Barcelona, they picture Gaudí's work. I was so, so impressed by Casa Mila. The tour takes you to the rooftop, the attic, and one apartment floor, and all were pretty remarkable. I don't really have the vocabulary to talk architecture beyond "I like to look at this thing, it pretty," but I felt that way for the entirety of the visit. Definitely worth doing if you're ever in the city.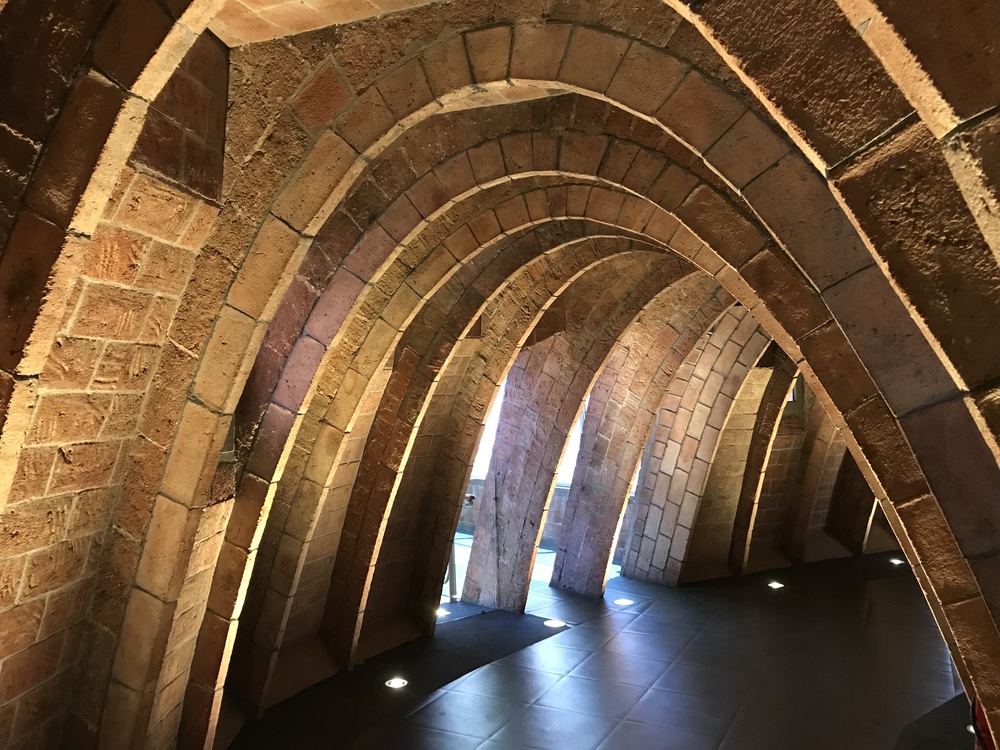 After that, we walked toward the famous shopping street "Las Ramblas," which we decided is in this weird cycle of "famous because everyone goes there and everyone goes there because it's famous." Like, it might have been cool and unique once, but now it mainly seems like a place to crowd in with thousands of your closest friends and avoid eye contact with people trying to sell you cheap fans and souvenir magnets or eat at their jam packed restaurant patio. Not our fav place, but it did eventually spit us out at the waterfront, where we sat for a while in the shade of a tree and watched people with more money than us bring their boats in and out of the harbor. After a while, we took the metro back to our hotel and rested for a bit before going to meet our amigas!! My friend A has been working in Germany for the past year and her sister E is visiting her for a few weeks, and they met up with us for a long weekend in Spain! We met at their hotel a couple of blocks from ours then got tapas for dinner. It was great to see more friendly faces from home and catch up on everything. After dinner, we walked to the Arc de Triomf (Barcelona edition) and its surrounding park before turning in for the night.
On Saturday, we had our biggest Spanish adventure when we set off for nearby Montserrat by train. I'd heard from a couple of people that it was a good day trip if you had the time, and woooo boy were they right. The train took us about an hour outside of Barcelona, and then we got on a cable car to take us up the mountain (Montserrat) to an old, beautiful monastery. We had lunch in the cafeteria (sadly lacking in patatas bravas, but had a good vegetable soup) then got on a funicular to go further up the mountain. Like, almost straight up. The tracks were SO steep it did not seem like the car should be able to stay attached to them, but these are things I tried not to think about too much. At the top, there were several hiking trails that split in different directions, and we decided to take the one leading to the very top of the mountain. The trail was called Sant Jeroni, which sounds a suspicious amount like Madame Zeroni from the book/movie Holes, and the mountain landscape itself looked a lot like God's Thumb. I'm not saying that this prompted Stephen, A, and E to sing the Holes rap and that one woodpecker song for most of the hike, but I'm not saying it didn't. I might have sung along at times, too, but my lungs were mainly focused on breathing like someone who hasn't worked out since Lifetime Fitness class her senior year of college. The hike took a little over an hour and had pretty incredible views the whole time, but especially at the top. We sat and took it all in for a while, and enjoyed the endorphins high for the rest of the day. When we made it back down to the monastery, we had celebratory drinks. My own mini-bottle of cava might have landed in a less than full stomach and overall dehydrated body, which made the subsequent visit to the Montserrat gift shop especially lit. We also got gelato, then headed in to see the basilica just as they were starting a Pentecost service. We were shuffled into this line to go see a famous statue behind the altar, which meant that eventually we were up on this balcony right behind the priest's head while he was performing the service, visible to everyone in the pews. My inner monologue was like, hellloooo very serious churchgoers, I don't know why they let me up here when I'm running on sparkling wine and two scoops of frozen sugar nor why Camilla Cabello's Cryin in the Club is in my head right now, don't mind me, byeeee. But the statue was pretty and seemed important and I think outwardly, I didn't give off an air of total heathen, so all was well. At that point, we hurried a bit to make the second to last cable car down the mountain so we wouldn't be stuck walking it (y i k e s) and took the train back to Barcelona.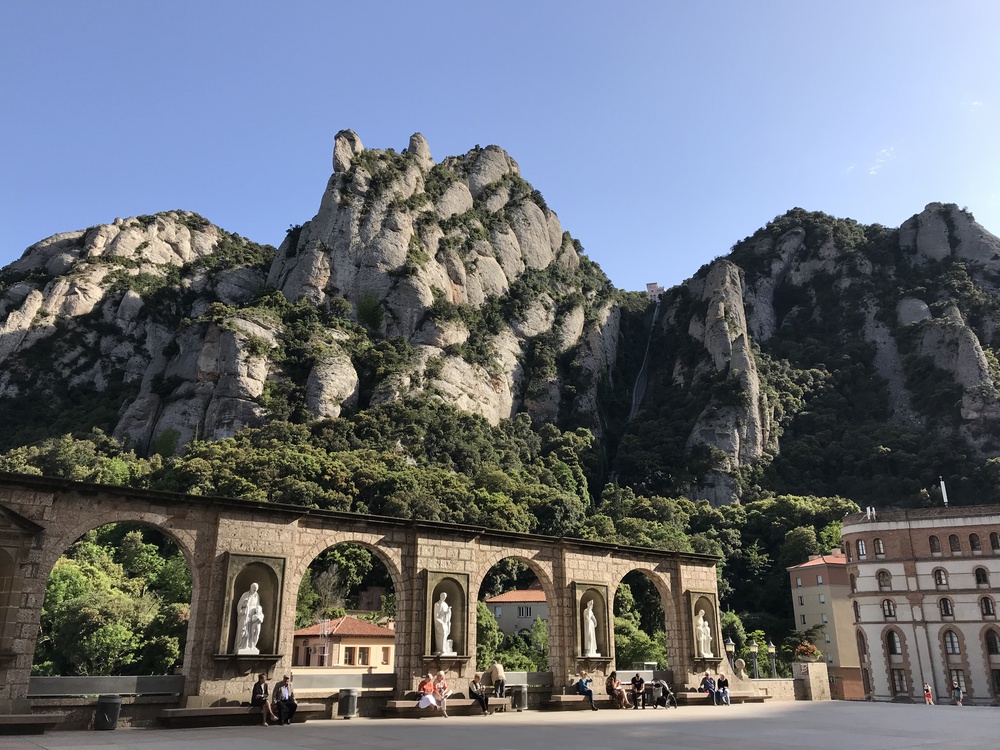 We had tapas that night at this fun place with fancy English menus and lots of cartoon characters in the décor, and all of us left full and happy. Then, we went to see a thing that Stephen found on the internet somewhere as a must-do, the Magic Fountain. It was truly magical! This huge fountain in front of a museum near the Placa España does a light and water show at night set to music. We were somehow able to edge our way to be right up next to it, with the perfect view of the museum and its smaller fountains in the background. The show lasted a whole 30 minutes, which was super impressive, and had a great selection of music in both English and Spanish. There were also, curiously, at least three songs from the store playlist at the bookstore where I used to work. Will that playlist haunt me for the rest of my days? Seems plausible. But the fountain show was the perfect way to end a very full and wonderful day.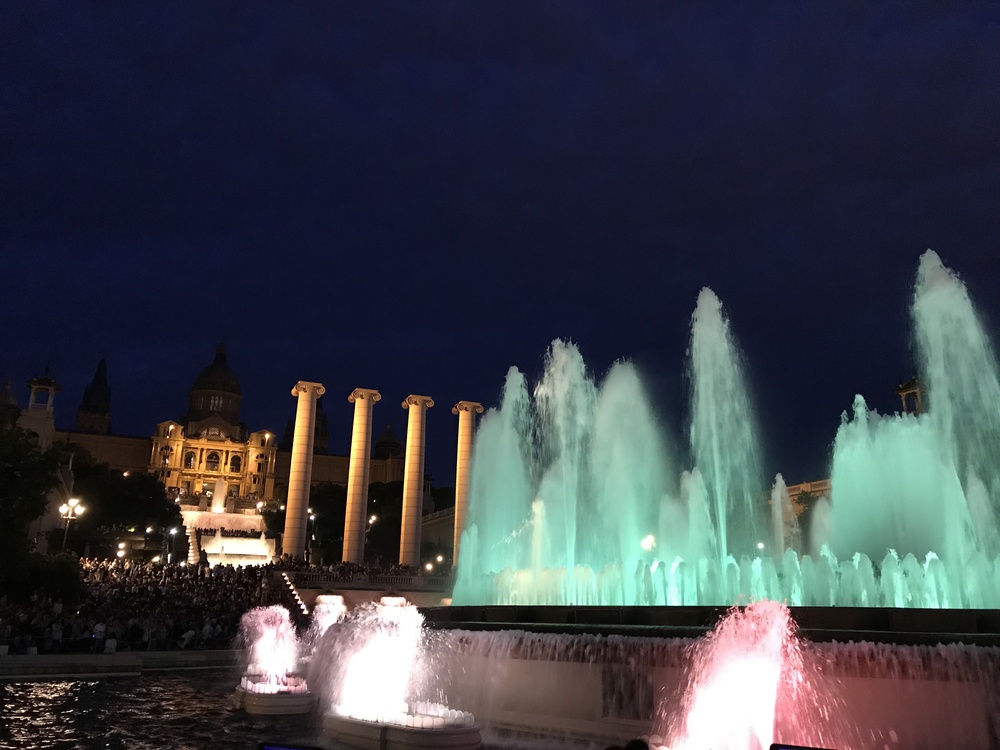 Sunday, we had to check out of our hotel, but still had a full day to explore before we needed to go to the airport. We dropped our stuff off at A and E's hotel and the four of us headed to a croissant place for brunch. I'm telling you, you have never seen such an impressive variety of croissants and toppings/fillings. It was a delight. After that, we walked a little ways to check out the exterior of Casa Batllo, another Gaudí creation, but none of us were passionate enough about it to spend the money going in. Then we took a metro toward the beach! Honestly, the beach was much…tamer than I anticipated. It was pretty quiet, actually, and way less Fort Lauderdale Spring Break than my unfounded preconceptions led me to believe. We walked around a bit there, and slowly meandered toward the city's gothic quarter. That side of town was so gorgeous! While most of the city we'd seen up to that point was a big grid of streets with perfectly square blocks and wide boulevards, the gothic quarter was full of winding alleys and curving streets and super, super old architecture. We loved it. A found an excellent tapas place for late lunch-dinner (feat. The Last Patatas Bravas Supper) and we got gourmet popsicles for dessert.
After that, we walked to the Sagrada Familia, where we had timed-entry tickets. We made it with perfect timing and went through the most rigorous security checkpoint outside of airports before retrieving our audioguides and starting the tour. And if I thought Casa Mila was impressive, Sagrada Familia was a whole other league. I mean, I was hoping it would be since it has been under construction for over a century but wow, I get the hype now. It was fascinating to learn about the incredible amount of detail to Gaudí's plans and how they are still being adhered to today. It's unlike any other cathedral — or building, for that matter — that I've seen. I loved all of the stained glass, and the three distinct entryways with their totally unique styles. If it's as impressive as it is now, I can only imagine what it'll be like when it's finally finished. YA GOT ME, ANTONI. Props, man.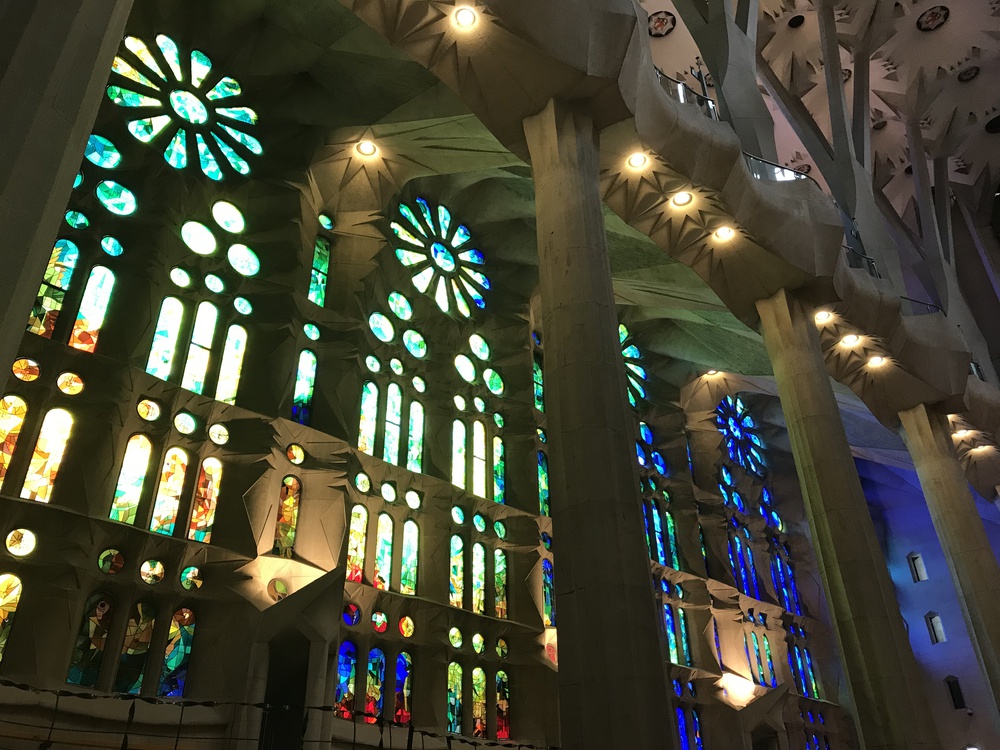 That was our final European hurrah, so to speak, before we returned to the hotel to get ready and then began the loooong-arse journey home. Barcelona blew me away and I'm sorry to have underestimated it. I knew not what was awaiting me a.k.a. patatas bravas. It is a really large city, which is not typically my fav, but the combination of finding smaller magical spots within it and enjoying it all with good people made my time there so special.
I don't know if I have many notable memories from the trip home, but I'll offer what I can now. The flight attendants on our first flights were almost certainly droids and there was something they weren't telling us. We also took off from Barcelona at 12:05am and landed in Moscow around 5:30am and for some reason, there was a meal served mid-flight and it was dinner. We found a different lounge to hang out in at the Moscow airport, but this one still had Nench and cake potatoes (inside joke if u been followin' along, lolzzz!). The flight from Moscow to DC felt like it took approximately three days of my life and I didn't sleep at all and when we landed my legs/feet were swollen to like twice their size and looked all veiny. Is this normal? Should I be concerned? Are these questions that I could have googled by now instead of asking my blog followers who don't come here to give medical advice? Anyway, they shrank back down and I have also slept so much in the past few days that I feel almost maybe back to normal. You were never normal, whisper the readers. Touché.
I am writing this now from my very own bed in my home, feeling incredibly grateful. Sometime soon, I imagine I'll have the energy/mental space to put it into more words, but know that I feel so super lucky to have had the experiences of the past month-plus and could not be more thankful for all the people and circumstances that helped us get to do this trip. Most especially, I'm thankful for my wonderful partner, Stephen, for being so smart, fun, hardworking, and all around the perfect travel-and-life companion.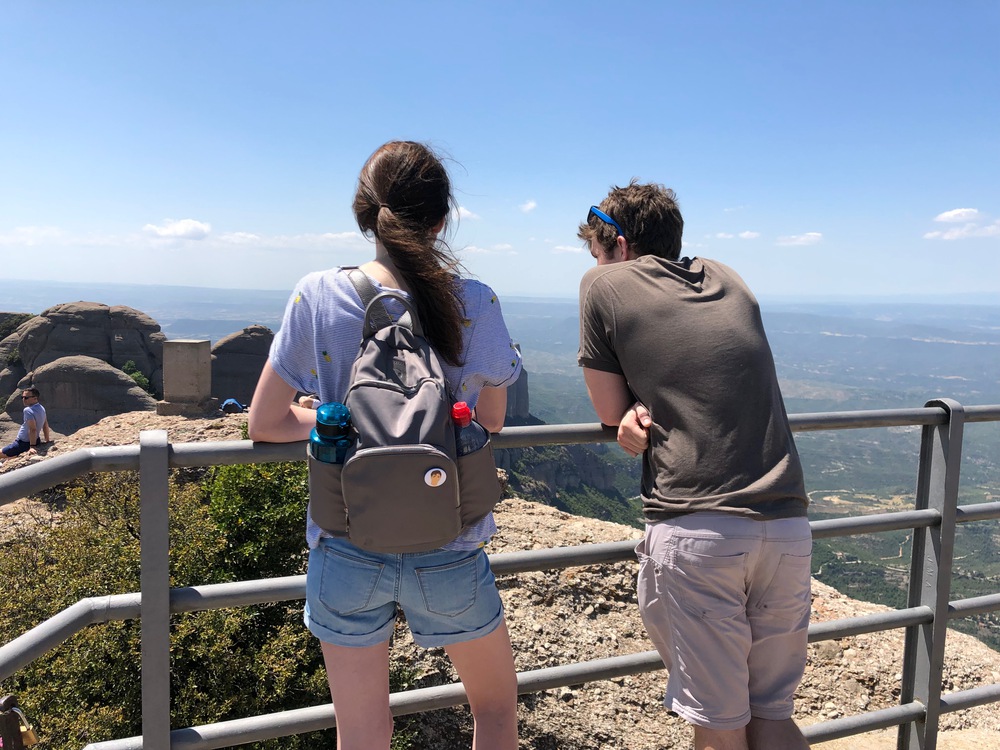 Have I mentioned that I am so lucky? Because I am.
Thank you, thank you, thank you for following along, wishing us well, sharing your travel tips, and letting me write into the void knowing that usually the void contains at least a couple pairs of interested eyes.
All the love in this big n' beautiful world,
Kaitlyn