Belgi-Yum
06 Jun 2019
more like smellgium amirite - Stephen just typed this and I'm keeping it in.
Hello everyone! We've spent the past few days in the beautiful country of Belgium and have had such a good time that it's getting its own little post. And for the record, it does not smell any more than the average country. We came here for a conference at which Stephen gave a presentation because he is so much cooler than I will ever be, and said conference had us staying in the city of Mechelen. We expected Mechelen to be a dinky little suburb of Brussels and that we would probably spend more time in the latter, but as often happens, we were proven wrong! Mechelen is its own city, a little smaller than Brussels but also nice and clean and beautiful, and it became one of our favorite places we've been.
We arrived on Monday afternoon and checked into our hotel, which was another one of those places we'd probably never stay if we were paying for it ourselves, so thanks Stephen's employer! It was called Martin's Paterhof, and located inside an old church. Some of the rooms even had fancy stained glass windows. Ours had the most comfy bed of the whole trip with a blanket comparable to Lil Weighty (my weighted blanket, sitting lonely at home in KY), robes and slippers, and a TV with HDMI cords you could plug into your computer should you hypothetically want to catch up on your fav American reality show before sleep. Anyway, we went to dinner that evening at a "gourmet burger" place, mainly to get frites and (for one of us) beer, but they also had a delicious veggie burger. Side note — remember that time in the early 2000s when America was mad at France for some reason and some cafeteria in DC tried to make "Freedom Fries" happen? Except French fries are actually Belgian so joke's on us? Man, elementary school Kaitlyn thought that was the funniest ish ever. Anyway, the burger restaurant also brought the first of many super friendly encounters with service industry workers. We walked around the town a little and found the gorgeous town square bordered by a couple of especially impressive buildings, the Rathaus and St. Rumbold's Cathedral. Then we slept for what, to me, felt like an eternity. So great.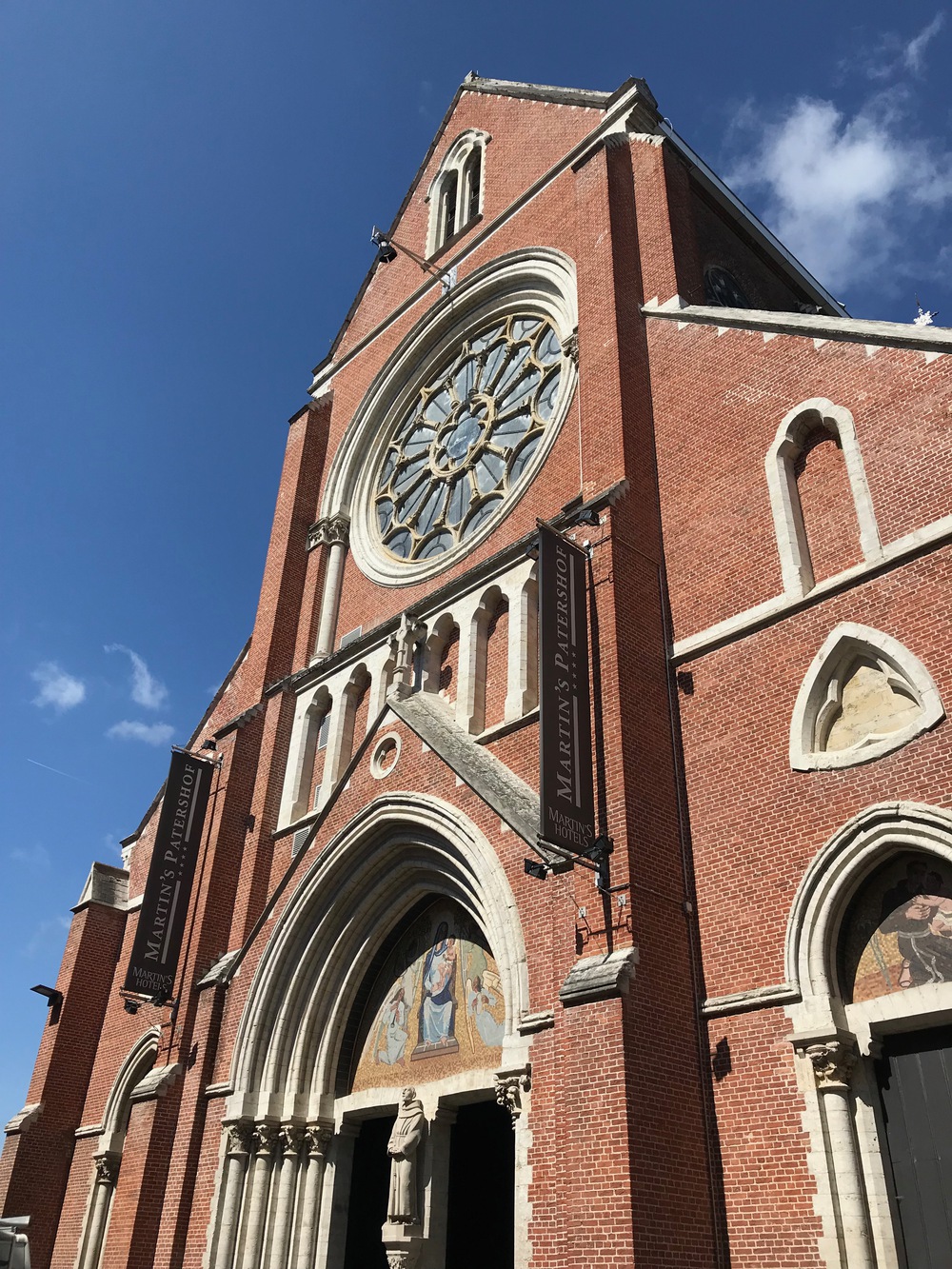 On Tuesday, Stephen went off to his first day of Conferencing, which involved some kind of training for some kind of software or hardware or something that he would have to tell you about. I went in search of waffles. Which I found easily, and sat outside at a café by myself, drinking tea and reading my book. I also ate a waffle with chocolate sauce and strawberries, and kept taking too-large bites because I'm a child, causing the Belgian man at the table beside mine to laugh, mimic covering his mouth like I was, and go "BITE TOO BIG" in a thick accent. I hope he got some laughs retelling it at the dinner table that night. I wandered around town for a while and into the cathedral, which was even more beautiful on the inside. It had a super elaborate pulpit that was basically a biblical scene sculpted out of wood, along with high ceilings and detailed stained glass windows. ~Spoiled traveler alert~ but after you've been around a few old European cities, I think it's easy to become a little desensitized to pretty churches. But this one was exceptional and captivating, and further proved that, wow, we did not know what we were getting into with Mechelen. I was still feeling a bit under the weather from my cold/whatever it is, and also spent some time this day resting and reading at the hotel. In the evening, Stephen had more conference duties so I set out for some food. I was hoping for take-out since I wasn't feeling well and found an Italian restaurant that looked good. When I asked if I could get take-out, the waiter was like, "Weeellll we don't really do that…but maybe we can make something work." Maybe he took pity on me because I looked like death, but he found some random disposable food container in the back and they put my pasta into it, AND gave me a container of parmesan that was almost as big as the pasta dish. It was so generous! I love you, Belgians! Or at least the few I've met!!! I finished that night full and happy, if a little sniffly, and watched the new Jonas Brothers documentary on Amazon that I cannot even begin to process yet, will need to watch again in America, omg.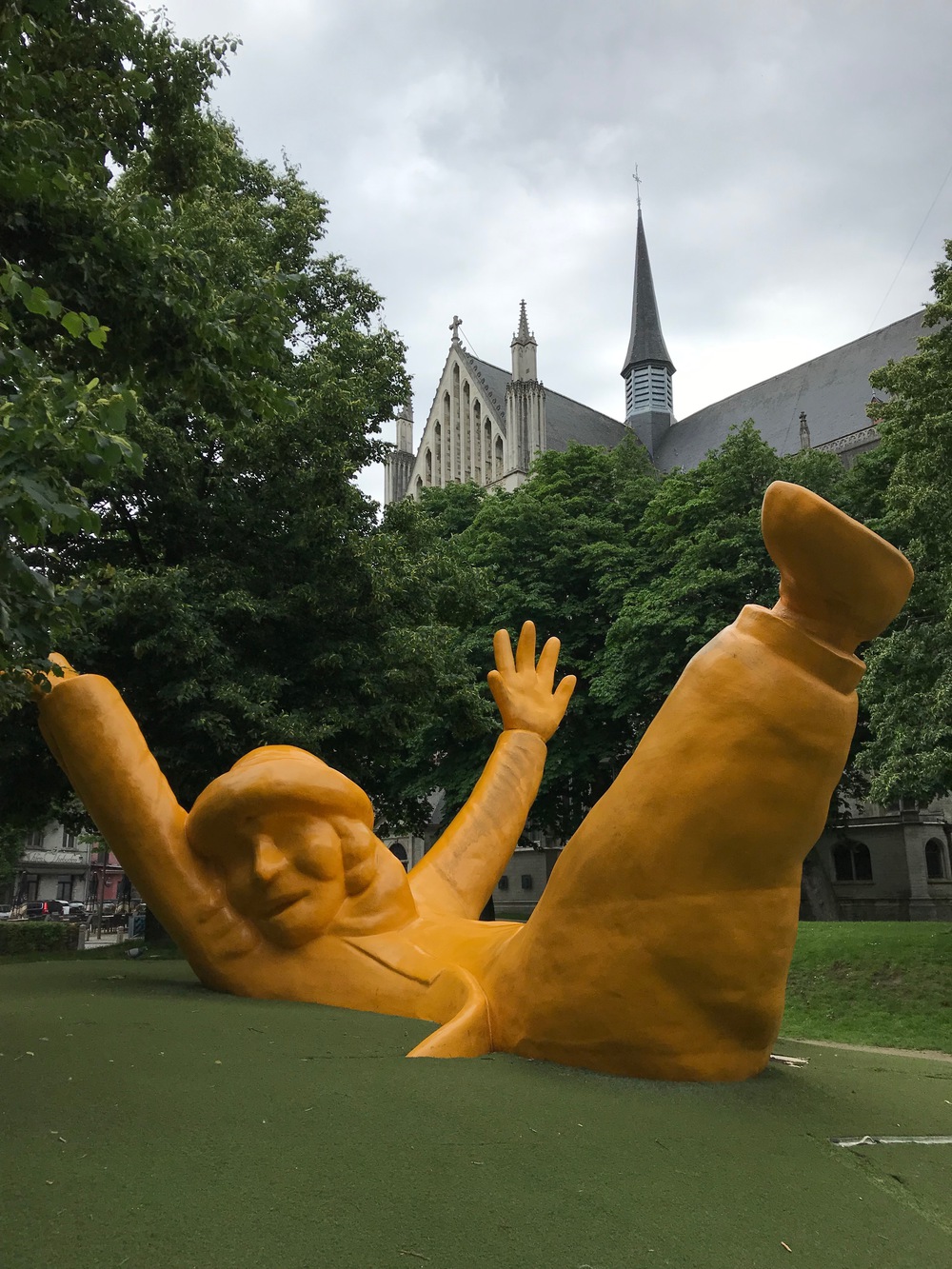 Yesterday, I got up and went to watch my lil boo's presentation! Once again, he did so great. I only saw one of the other presentations but Stephen's was way better, obvi, and he just revealed that another attendee told him that if they still had a "best presentation" award, he would've gotten it. OF COURSE HE WOULD! I am so proud and so lucky to be with someone so smart and passionate and whose work happens to take us to really cool places sometimes. I also filmed the whole thing on my shaky arm tripod, so maybe if you ask really nicely, he'll share with you. After that, I got a biiig lunch at another restaurant with a nice patio on the main square and took in the #views over a sandwich, salad, frites, and waffle. Living the dream, people. I did some window shopping and found that the town had a disproportionately high number of bookstores, which I always love to browse even if I do not speak the language in which most of the books are written. Which reminds me, I thought they would speak French in Belgium. Some people do, but they also speak Dutch and sometimes German, and it seems like Mechelen was mostly Dutch. This was very confusing for the first 24-ish hours. But, fortunately for we natives of one of the more privileged nations in the world, most everyone also spoke English. In the evening, I was still mostly full from lunch but felt like I should still eat something, so I got raspberry frozen yogurt with marshmallows and chocolate shavings. Nutrition is my passion. By the time Stephen got back at night, I was hungry again but most places were closed…except for our hotel bar! At which the nicest boyfriend in the whole world went to get some cheese and bread and chocolate mousse and delivered it to me on a room service tray, making all my dreams come true! Left me with a literal and metaphorical great taste in my mouth about Belgium.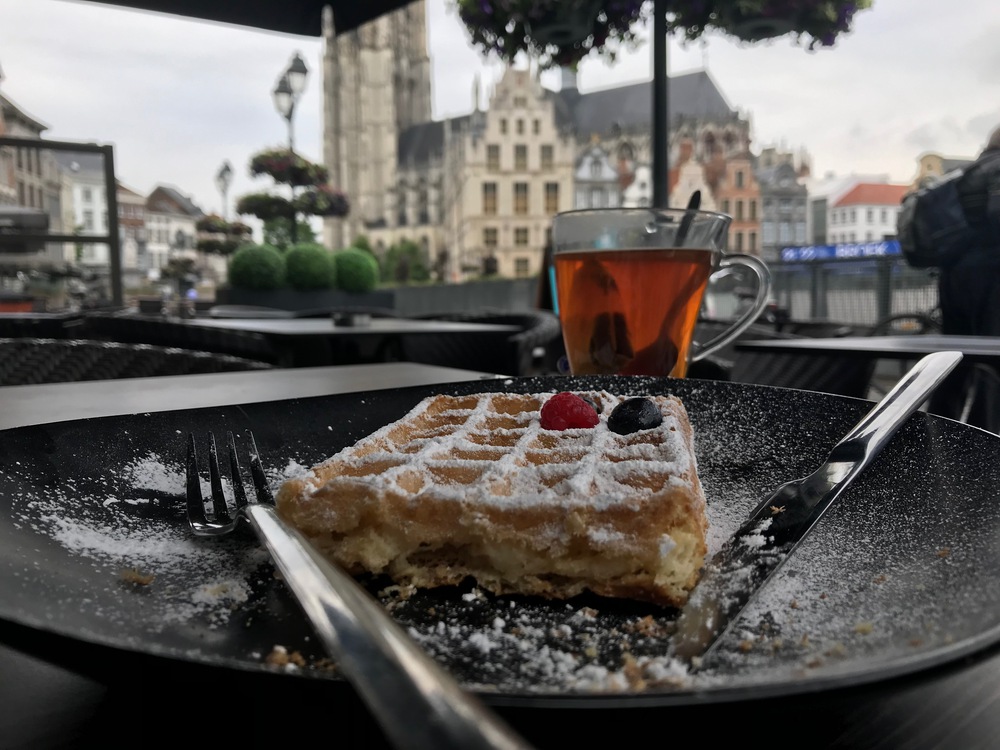 Overall, it's been a fantastic few days. I loved that Mechelen was small and condensed enough that I felt like I could see it all and enjoy it fully. I didn't feel like I was rushing to fit anything in and I don't feel any regret about not getting to Brussels, since I'm sure I'll come back there sometime, but what would the odds have been for us ever having a reason to come to Mechelen without this conference? It felt like such a lucky find. The people were lovely, the food was excellent. I have zero complaints, except that I couldn't fit my hotel slippers into my luggage.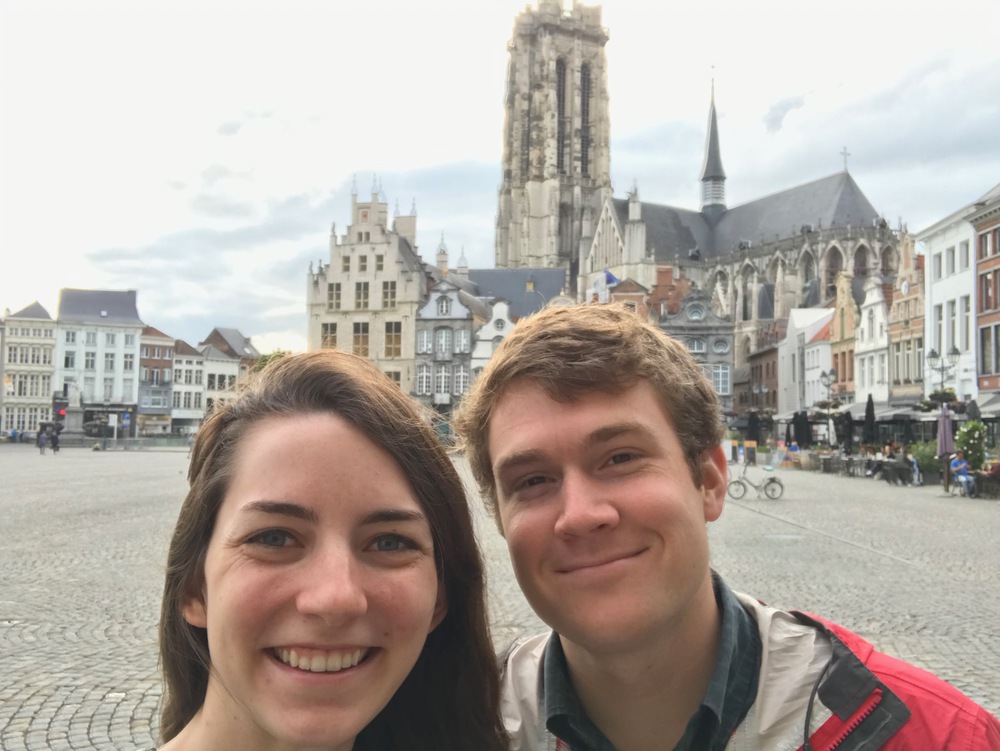 We are now at a lounge in the Brussels Airport. Sad to report that I can never travel independently from Stephen ever again, because I need his airport lounge access. I can't believe I spent the first, like, 23 years of my life without knowing this way to travel. Next step: one of us making enough money that we can frivolously drop hundreds of extra dollars each trip to fly first class. It's gonna be great. We're off to our last stop. Have you been keeping track based on that list of cities I dropped about a month ago? If so, you'll know where we're going for the long weekend. If not, you will find out in my next blog post, pay closer attention next time.
Thank you, as ever, for following along. We'll see you in America on Monday…!
Xoxo
Kaitlyn