Feelin' the Bern (and the Munich)
02 Jun 2019
(BLOG TITLE PSA: this is referring ONLY to the city in Switzerland called Bern in this the year of our lord 2019, thank u, proceed)
Guten Tag, meine Lieben! Guess who's back back back, back in German speaking nations nations nations? That's right — the Jonas Brothers, right before I got here. Seriously, JB, Taylor Swift, Chrissy Teigen/John Legend, half the cast of Riverdale, and several millions of other people I don't care about as much have all been in and around the same European cities as us either just before we arrive or just after we leave. I suppose that if I'm honest with myself, I know we wouldn't be hanging out anyway…but my irrational 15 year-old fangirl brain is like, "Maybe you should send Nick Jonas a DM on Instagram with the rest of your travel plans, just in case."
I haven't done that, FYI. Yet.
I have, at any rate, had a wonderful week in Munich and Bern! We got to Munich last Sunday evening and checked into our Airbnb. It was a lovely little apartment on the top floor of a building in a quieter part of the city, near Nymphenburg Palace. Weirdly, the palace itself never returned my calls about renting a room there. So we settled for a 6th floor walk-up that was 90% windows with nice views and a bed nestled up in a cozy ladder-accessed loft. We were desperately in need of laundry, though, and found out that the washer was broken, so I set out for the nearest laundromat. This is the thrilling content that keeps you coming back to my blog, right? Reader, I arrived at the ghost town of a laundromat with a suitcase full of both of our dirty clothes and discovered as I tried to get started that my laundry vocabulary auf Deutsch is limited. What was I supposed to do? Would the clothes washing show go on? Or would Stephen and Kaitlyn have to travel the rest of Europe offending even the skunks with their stench?
Find out next week on Hilliterate dot com!
Ah, I hate a cliffhanger, so I'll go on. Context clues exist and I am not a total idiot, so I threw the clothes in the washer, pushed some buttons, and hoped for the best. 40 minutes later, all of our stuff seemed marginally cleaner and undamaged, so I shoved it back in my suitcase and returned to the apartment to air dry it because ~when in Germany~ ya know. Conflict resolved, and I promise that the remainder of this post will not get your heart racing to the extent that it surely is right now.
That night, we had the best discovery of our time in Munich, a little restaurant on our very same block with a big menu of fantastic German food. I had some cheese dumplings and my all-time favorite beverage, Spezi a.k.a. orange flavored cola. Stephen had his first German beer actually consumed in Germany and some food I can't remember. We sat outside in perfect weather as the sun set, and life felt pretty perfect.
Monday, we covered all of the Typical Munich Things, including Viktualienmarkt, Marienplatz, Frauenkirche, Odeonsplatz, Hofgarten, and Englischer Garten. We had another delicious lunch, this time in a biergarten by Viktualienmarkt and featuring spinach dumplings and more Spezi. Dumplings were the official sponsor of the Vegetarian in Germany Experience. Stephen's favorite part of the day was probably watching the surfers in the Englischer Garten for a long time. For more on all of the other Munich Things, feel free to reference any of my posts from the summers of 2014 and 2015 — this was basically the highlights of those few months lightly touched on in a day. We ended up having dinner at the same restaurant as the night before because we felt that we had more we wanted to experience from their menu (and/or we were very lazy as the day slipped away and did not want to travel far for a 9:30pm meal). It was excellent once more.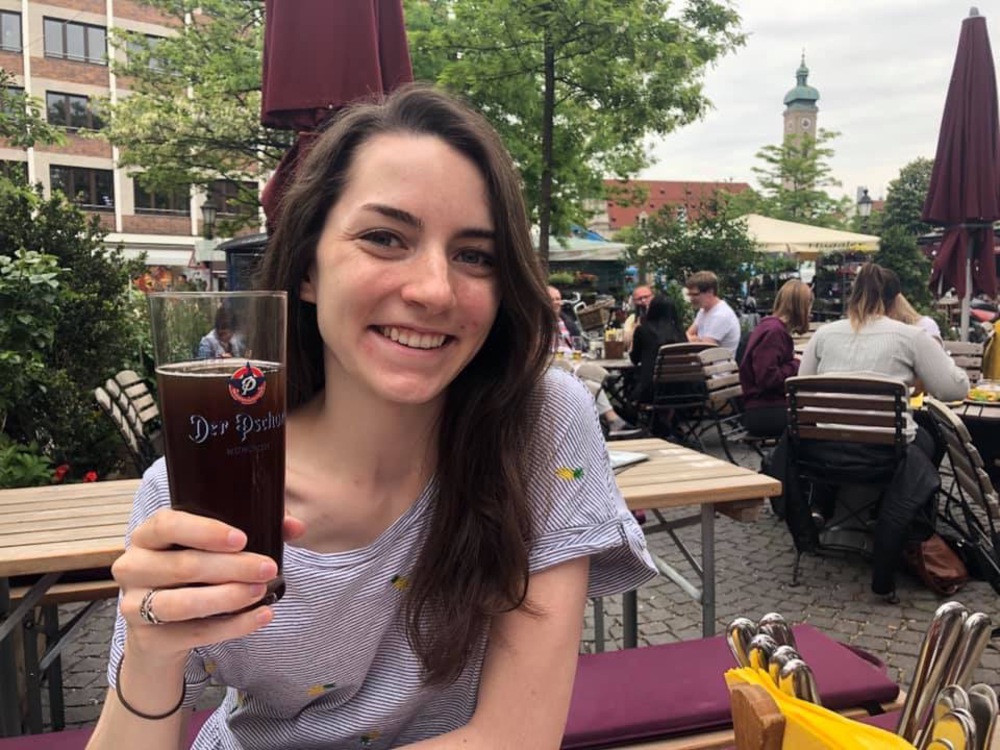 Tuesday, it was raining pretty consistently for the entire day and in the perfect storm of coincidences, all of the activity of the past 10ish days was catching up with us. We decided, in light of all of this and the fact that I'd dragged us to the main sights the day before and in truth, my favorite part of Munich was always just the living and doing normal everyday human things there, we decided to have a lazy day. We enjoyed the rain on the skylights from our cozy couch while catching up on quality American television programming that was definitely not a reality show about one woman's quest to find love among 30 suitors. We drank Spezi and ate pastries from a nearby bakery. We (I) read books and napped and we (Stephen) got some work done. Then, as our big outing of the day, we went for dinner with my host mom and sister from my time living in Munich in college! It was the first time I'd seen them in four years and Stephen's first time ever meeting them, and it was so so wonderful. I'd been worried about my German being too rusty to get by or not being able to translate enough for Stephen, but between what I've retained and what English they've also learned (along with context clues and Stephen also not being an idiot) everything just flowed. It was so fun reminiscing and finding out about what everyone is up to nowadays, and left me feeling like these are relationships I want to keep up for a long time into the future. For the record, there was also really good food.
On Wednesday, we got up and headed to the bus station first thing and set off for Bern, capital of Switzerland and home to our friends J and C. The bus ride was not bad, even though it was the second one of our whole journey that promised Wifi and did not deliver! But I'm not bitter! And definitely did not leave a spicy review in their customer survey! I probably would have just read my book, anyway, but much like the memorable time I got in trouble as a kid at bedtime, it wasn't the fact that they didn't brush their teeth; it was the fact that they lied to their mom about it. These incidents are comparable in their importance in the Grand Scheme of Things (and in the fact that I will probably never forget them until my dying day, trust no bus company!!!).
Anyway, we arrived in Bern and had a chill evening hanging out at J & C's lovely apartment, walking along the super pretty turquoise river and getting drinks at a nice riverside spot, and having HOMEMADE FONDUE for dinner. The homemade fondue was a trip highlight. Never has bread dipped in hot cheese tasted so good. Thursday was a national holiday (Ascension, for fellow non-Catholics/non-Swiss out there) and also a beautiful, sunny day, so we went on a little hike up a nearby hill to eat, hang out, and see beautiful views of the city and the Alps. The views were incredible — very Maria running away from the abbey to sing in a field, or the Von Trapps escaping the Nazis by hiking to Switzerland while also singing. Do I associate any beautiful mountain views (and most other experiences in life) with The Sound of Music? That's for me to know and you to probably also know if you know me, like, at all. That evening, we had some amazing gelato. What are transitions? We also went to a bar with a bartender who looked like Niall from One Direction. A strange American woman took sneaky pictures of him for proof, which I thought was totally weird! Never something I'd do! Nope!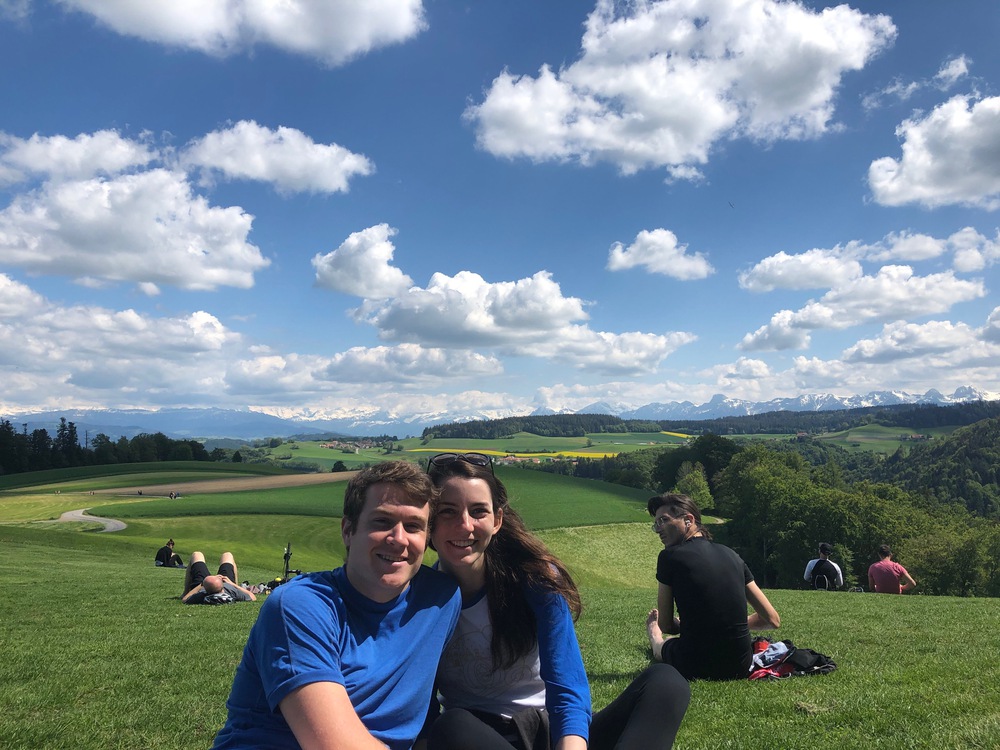 Friday, J took us into the center of town, where we saw the Swiss parliament building which — shocker — also has amazing views. He and Stephen played giant chess on the little overlook outside which was the least competitive/anger-inducing chess match of the whole weekend. Their chess matches normally sound like the verbal sparring of two mortal enemies. Everyone needs an outlet for their aggression, I guess. From there, we walked further into the "new old town," with its fair amount of tourists, souvenir shops, and restaurants. We stopped in a grocery store for more affordable and surprisingly good sandwiches before walking further into the old old town and sitting in a nice little park to eat them. This also seems a good time to mention that since every European city seems to have an "old town," the horrendous song "Old Town Road," by one Billy Ray Cyrus and Lil Nas X, has been in my head for most of my waking hours the past month and also probably haunts my dreams, but fortunately, I don't remember those. I have also heard it playing on the radio in every country we've been to here, which is relatively low on the long list of things that make me want to apologize for America.
But I digress. After eating, we climbed up to the top of the Münster, a big and beautiful church that towers over the rest of the old town. Again with the views! Oy with the views already! They never look as good in pictures, but they are burned into my brain. I love you, Alps. The city of Bern is also super beautiful with its turquoise river and red roofs and statues of men eating babies (really). Unfortunately, the climb up the church tower plus heat plus the low-key cold I've developed made me not feel so great, so we came back to the apartment for a rest and for some of us, a tense ongoing chess tournament. A combination of tea and good dinner and more gelato started working together to make me feel better.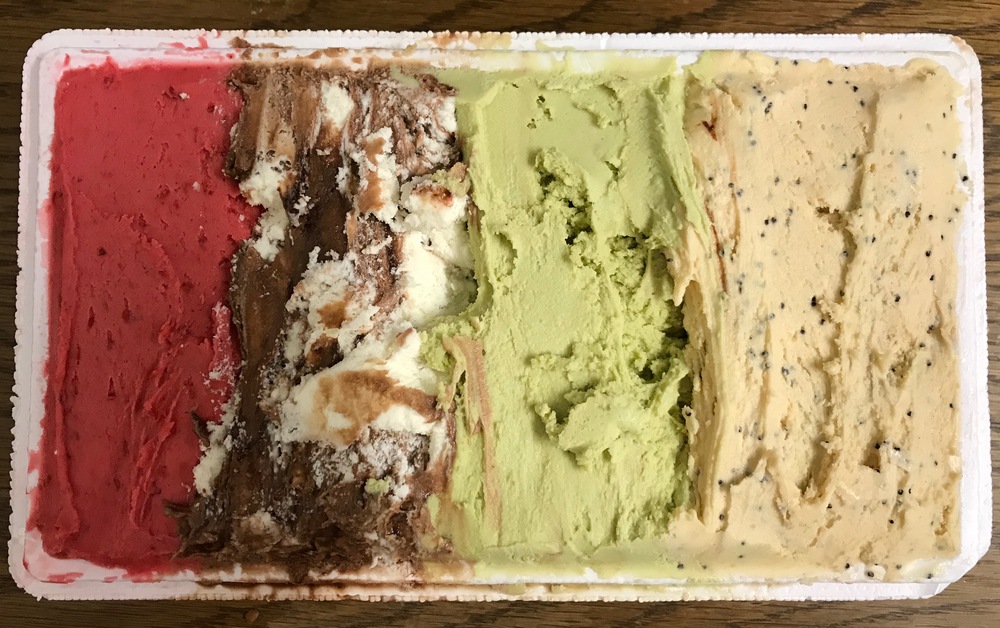 Yesterday, we went to Bern's Asian street food festival, and YUM. Everything I tried was good, especially the tofu pad Thai that I hogged, sorry everyone else. Then we headed into the old town again and saw the bears. Bern has a thing for bears, relating to their origins that I don't totally know, and J and C had been saying since we arrived that they would take us to "see the bears." I don't know why, but in my head I had invented the idea that these were bear statues, like the painted horse statues around Lexington. As it turns out, they are actual, living bears. They just chill on this hillside habitat by the river that's slightly bigger than what they would have in a zoo, and anyone can go visit them and think, "Wow. Bears." Which is basically the extent of what happens there, but it was funny and cool and the bears are cute. It was also next to an old tram station with excellent gelato! I got dark chocolate, sour cherry, and black vanilla, the latter of which is just Superman ice cream for grown-up hipsters. Spoiler: it tastes like white vanilla. But all very delicious, good job Bern and good job me. Then we went down by the river and stuck our feet in the super freezing water because Stephen wanted to. After the numbness set in, it was almost relaxing.
We went back to the apartment for a rest. It has become a joke that I have a nap time, and they have to take me home so I can get my nap, except it's not really a joke and quite seriously my life and why am I like this??? But we did make it back out post-nap to get a drink in this cool cellar bar in the old town and then came back for homemade savory caprese french toast, which was truly delicious. I have used that word for a lot of food on this trip, but only because it is applicable. This morning, we all got up and went to the other side of town for brunch at a cool farm/garden center/restaurant that required a little hike and a ferry across the river to get there. The ferry just about blew Stephen's mind, as it was very small and just attached to a pulley over the water and had no motor, only a rudder that the driver used to guide it across the current like a sailboat. I don't know, my boat descriptions are generally going to be lacking, but it was fun and gave you the sense of "is this thing legit, who knows, here goes nothing" that adds some adventure to the standard, basic white girl brunch experience. The restaurant was also so unique and fun, with an all you can eat buffet with perhaps the largest cheese selection I've ever seen in my life (#Switzerland), really good hashbrowns (#merica?), make-your-own crepes, fresh juices, and more. We sat out in the garden under a canopy-type-thing (there's a better word for this, it was more like a classy tailgate tent but canopy sounds better) and spent a few hours talking and eating and talking and eating more. We made it back to the apartment by mid-afternoon and have been hanging out here ever since. I got my nap and started a blog post and here we are.
It's hard to rank them, but this has been one of the best weeks yet. So many things about this trip have come together in a magical-feeling way, including the fact that we've spent five straight days in close quarters with two friends we don't often see and I am in no way eager to leave. This may not be a ringing endorsement from many people, but trust that it is from me. I get sick of people so easily! I love alone time! But these friends have been such amazing hosts and are such wonderful company that I'm quite sad to say goodbye in the morning. I hope to return before too long.
Obviously, I already loved Munich. But Bern has been exceptional and easily one of my favorite places I've been to. For a capital city, it feels relaxed, comfortable, not too large. If you've forgotten in the two seconds since I last mentioned it, it's also beautiful. And while I can't really understand much of the Swiss German dialect some people use, I love that I can still communicate here (and read all the signs and labels and menus and other things written in the familiar High German). It seems like it would be expensive AF to live here, but maybe when I'm a millionaire…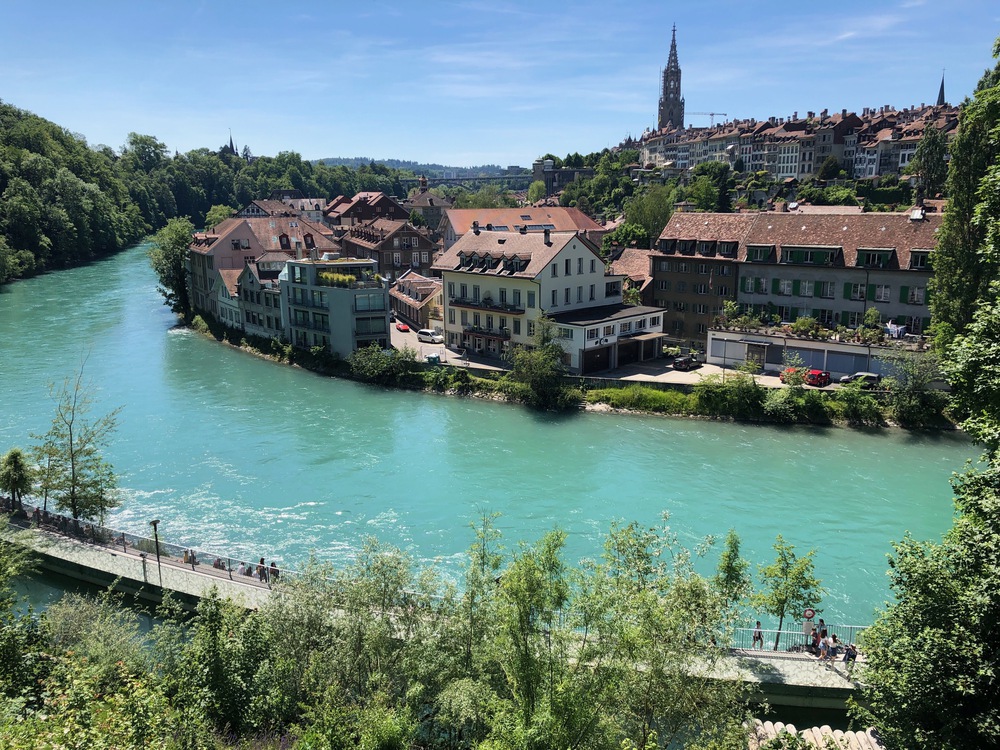 Anywho, heading into our last full week and last two cities in the morning! Like every single Bachelorette contestant ever, I am excited but also nervous, but because of train schedules rather than meeting a pretty woman. We have a couple of close connections on our journey (<15 minutes) and while train travel is nothing like air travel in that regard, I have this horrible vision of us running to make our next train and the doors close just as we're approaching and I burst into tears and throw myself onto the tracks in despair and not really that last part that was just for the drama. But it'll probably be fine. Maybe.
Thank you for sticking with me in all of these travel posts, and I hope this one's been enjoyable! Just think, only about a week more until we're back to our regularly scheduled content of oversharing about my boring everyday life. Maybe I'll have to include more wild laundry stories if this one is as big of a hit as I expect it to be.
Bis später…
Kaitlyn